Show Will Continue Despite Terrorist Threat
Austin, TX: In the early morning hours of February 14th, a Valentines Day that will live forever in cartoon infamy, the discussion forum of Staple! — Austin's premier independent media convention — was hacked by a group of comic-book hating extremists known as the Islamic Warriors.
"We don't know what they have against us, but we can guarantee that we will not bend to the demands of a few freedom-hating jug-heads," said Chris Nicholas, convention impresario and local comic personality. "The show will not only continue as planned, but it will be bigger and better than ever before."
The shady Islamic Warrior organization is known for their devotion to both Archie comic books and international jihad, a combination that has left many confused and unwilling to claim an alliance. While fellow extremists have a hard time understanding the Islamic Warrior's love of American light soap opera and high school funnies, Archie fans find their commitment to global insurrection unsettling and out of synch with the multicultural values of Riverdale.
(Screenshot of the damage. Not use of the "Archie" font.)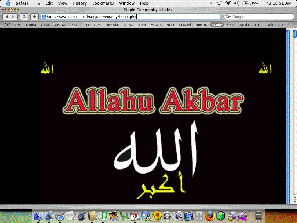 "Those guys are real Reggies," said one enthusiastic fan, wishing to put distance between his beliefs and those of the mean-spirited hackers.
Experts believe that there is some connection between the Staple! Hacking and the Danish cartoon controversy. However, the Staple! Independent Media Expo feels that freedom of expression is integral to the artistic process.
"We don't care who knows it," said Nicholas. "We love the first amendment, and we won't be stifled by those who want to rob us of our natural right to discuss our independent media-related dreams. We have absolutely nothing against Islam, or any religion. Except for the hacking our website part, which is probably not in any holy book. Maybe Scientology has something in there, in the back."
John L. Goldwater, creator of the modern Archie, could not be reached for comment. He is dead.